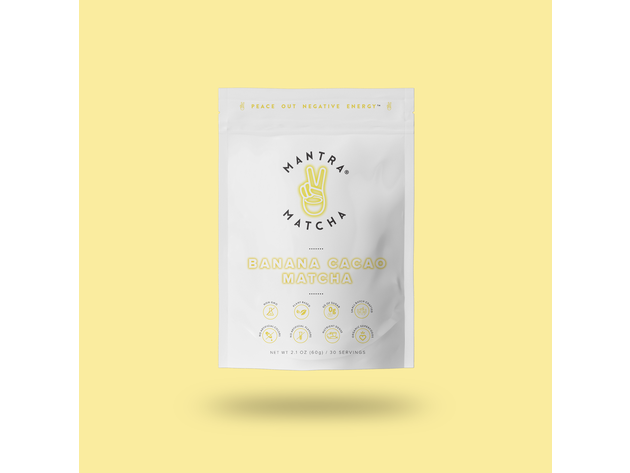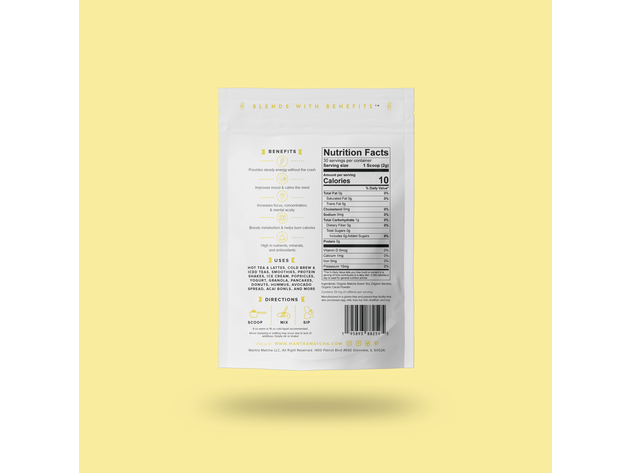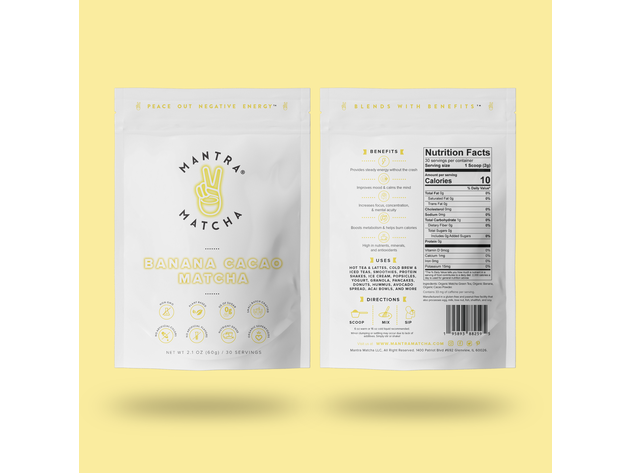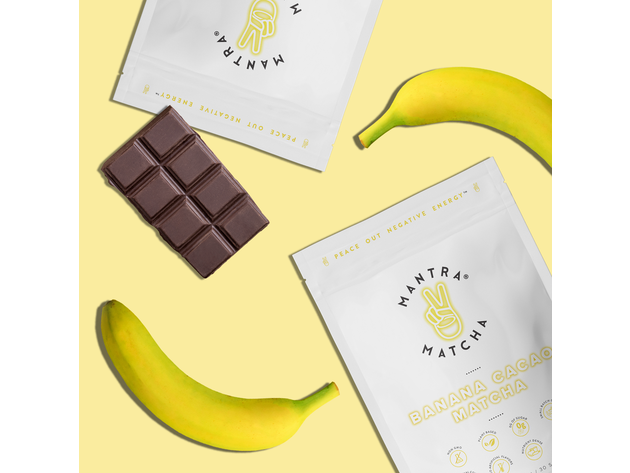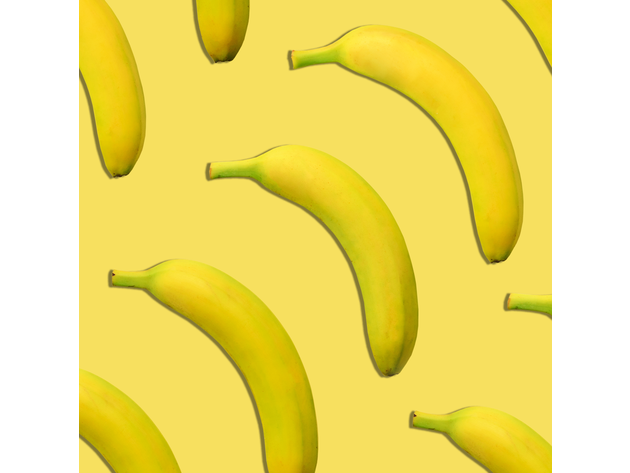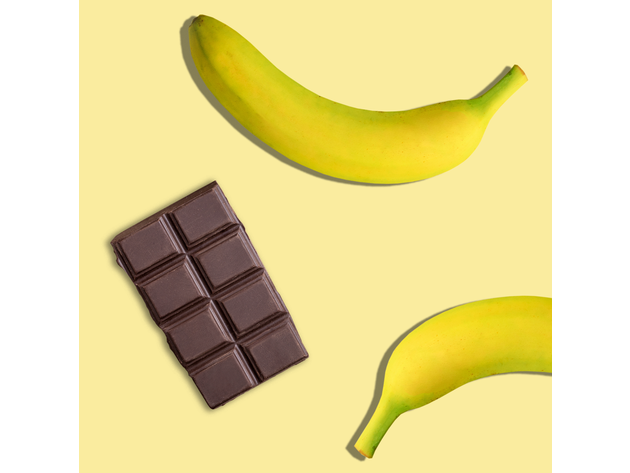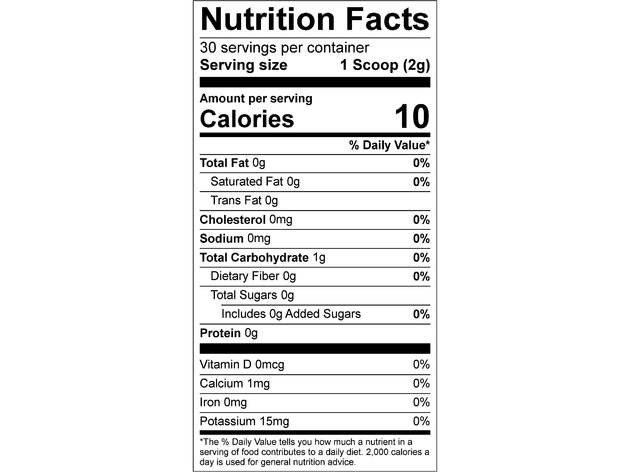 by Mantra Matcha
Description
Banana Cacao Matcha
Chocolate chip banana bread, chocolate chip banana nut muffins,chocolate-covered frozen bananas... delicious! No one can say bananas and chocolate don't pair well together.We've taken this classic combination and gave it a healthy twist by infusing it with top-shelf matcha. Rather than using chocolate itself, we ditched the butter and sugar, instead opting for cacao (the organic superfood relative of chocolate).Try adding to your morning smoothie or sip in place of dessert.
Specs
Organic Ingredients
Ingredient List
Organic Super Premium Ceremonial Matcha
Organic Banana
Organic Cacao Powder
No Nonsense
Super Premium Ceremonial Matcha A superfood powerhouse form of green tea loaded with nutrients, antioxidants, and a variety of health benefits. We use Mantra Matcha's own Super PremiumCeremonial Matcha as the base for all our blends. It contains less caffeine per serving (33mg) than a standard cup of coffee (95mg) and is the perfect coffee replacement and anytime pick-me-up.
Organic Banana Bananas are a staple in every kitchen around the globe due to their nutritional profile and delicious taste. Although this fan-favorite fruit is known for its high levels of potassium, bananas are also loaded with many additional nutrients such as vitamins B6 and C, magnesium, copper, and manganese. Plus they're primarily comprised of pectin, a fiber that helps regulate digestion and blood sugar levels. The high level of fiber combined with low caloric content makes bananas a great option in terms of supporting weight loss efforts. Did we mention bananas also contain starches vital in supporting athletic performance and recovery?
Organic Cacao The final products of both chocolate and cocoa originate from a much healthier origin, cacao beans. Unlike chocolate, which is highly processed with added sugar, cacao is quite nutritious. It contains significant amounts of iron, magnesium, phosphorus, and zinc. Surprisingly it'sa quality source of fiber and protein, yet low in sugar. This antioxidant powerhouse has anti-inflammatory properties, and can help boost immune health. We should mention that it tastes just like chocolate.
Net Wt 2.1oz (60g), 30 servings.

Non-GMO, No Artificial Colors or Flavors, Organic, Plant-Based, &Delicious.
BENEFITS OF MATCHA
1 cup matcha green tea = the health benefits of 10 cups traditional green tea

Provides steady energy without jitters

No crash from sugar or high amounts of caffeine

Supports immune system

High in nutrients and minerals

Improves mood and calms the mind




Decreases stress and anxiety levels




Increases focus and concentration

Boosts metabolism and helps burn calories

Restores vitality and feeling of well-being



Traditional Hot Tea Whisk and add to 6 oz of warm water.

Matcha Latte Whisk and add to 6 oz of warm milk such (e.g., oat, almond). Enjoy as an Iced Matcha Latte by using cold milk or adding ice after warm preparation.

Cold Brew Matcha Add matcha to a 16 oz bottle or shaker filled with cold or room temperature water and shake vigorously. Add ice cubes if desired.

Additional UsesAdd to yogurt, granola, popsicles, protein shakes, oatmeal, acai bowls, muffins, pancakes, donuts, cookies, martinis, ice cream, and more. Check out our recipe page for more ideas.

Sweeteners This matcha blend does not contain any added sweeteners, real or artificial (not even stevia). Drink unsweetened or sweeten to your liking with honey, organic cane sugar, or monk fruit.

Toppings Get creative by adding other toppings such as caramel drizzle, lemon, cinnamon, nutmeg, or cacao.

Mantra Matcha: No Nonsense. Super Premium. Real Good.




Shipping
Ships to Contiguous US
Expected Delivery: Feb 6 - Feb 10